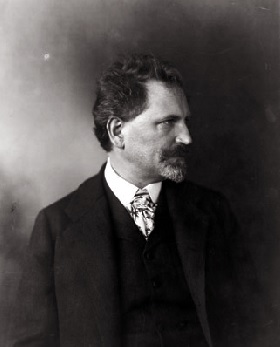 Alfons Mucha was a world-renowned Czech painter, print maker and designer, who rose to fame namely through his work in the decorative arts (posters, labels, books, jewellery, furniture). He was the main representative of the decorative Art Nouveau style, which set the "look" of the time. His name and work are associated mainly with Paris, where he lived for many years.
The expressions "Le style Mucha", "Art Nouveau" or "the most famous Art Nouveau" refer to the last of the universal styles. At the turn of the 19th and 20th centuries, it dominated in everything – from architecture to furniture to fashion and biscuit labels. This art style is associated with the name of Alfons Mucha, the man thanks to whom Art Nouveau is still alive today. He was its most important representative. In America, he was welcomed and hailed as the greatest decorative artist in the world. It was not his exalted salon canvases that became his ticket to fame, but rather the paintings of the street – posters.
Alfons Mucha's road to becoming an admired artist was a long one.
It led from his native Ivančice through Brno, Vienna, Munich and Paris… (Among other things, also through his failure to gain admission to the Prague Academy of Fine Arts, where he was rejected due to lack of talent).
Though he was not unsuccessful as an illustrator and creator of advertising drawings for a French theatre magazine, he did not really become famous either.
His fame arrived practically overnight. Sarah Bernhardt, the shining star of theatrical world in Paris, commissioned a poster from him in 1894 for a performance of Gismonda, staged at the famous Theatre de la Renaissance. He came across like a revelation. Something that had never been seen before. Mucha took full advantage of the possibilities of relatively recent and significant improvements in lithographic printing technology.
He did not create a mere verbal message, more or less supplemented with an illustration, as was usually the custom at the time. He blended typography with drawn lines, created a true image, a complete and impressive visual work. Sarah was thrilled because the poster caught everyone's attention. People were fascinated. Mucha's collaboration with the actress lasted five long years and resulted in many other offers of work for Mucha.
The fact that Mucha set the look of countless posters, vignettes, stickers, jewellery, calendars and embellished everyday life with exceptional decors in the years to come, he enriched the history of art more than the artists of famous canvases, on which the dust of oblivion now settles in museums, galleries and salons.
He is considered one of the founders of poster art and, in the current context, it could be said of outdoor advertising. He probably sensed intuitively that the strongest magnet for the consumer's eye was not the product itself, but the emotions associated with it. And when these emotions are manifested on the face of a beautiful woman, the effect is even more powerful.
The art historian Karel Srp reveals the secret of the appeal of Mucha's works: "Their main axis was the beautiful female body, embedded in rich, original ornamental patterns. It immediately attracted attention. This uniqueness in the art of the time has ensured the artist's popularity to this day.
Mucha managed to capture not only the ideal of contemporary beauty, but also a new approach to advertising, which is still used today, in which consumer products are promoted by beautiful, world-renowned models. In addition, because it was a print, Mucha made the poster accessible to the general public, allowing them to buy it and decorate their homes with it. He also gave a high standard to various occasional prints, in the style of which he showed that everyday life can be a special occasion."
Even when the world was at his feet, Mucha's heart pined for home. As soon as he'd found a patron in America, he returned to his homeland and began working on a series of monumental canvases, which he was convinced would become his life's masterwork – The Slav Epic. He never finished it. However, he still managed to enrich the Czech people with designs of stamps and banknotes, and police uniforms, which he created for the newly-established independent republic. He was one of the few artists to be recognized during his lifetime, and decades later, his popularity still has not waned. This is no surprise, however, since the beauty of women and flowers is eternal.